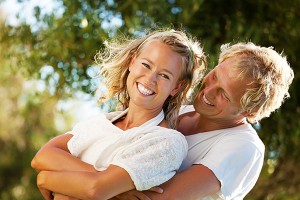 At Dr. René A. Talbot, DDS, we offer patients in-office teeth whitening treatments. If you are comparing in-office vs home tray teeth whitening methods, you should be aware that the best results are typically achieved at the dentist office. If you live in Huntsville, AL or the 35801 area, call (256) 382-6690 to schedule an appointment and to experience the transformation that an in-office whitening treatment can provide.
How Teeth Whitening Works
To understand the differences between in-office vs home tray teeth whitening, you must understand the process. To whiten teeth, a solution must be placed on top of them. This solution will either remove the surface stains or it will penetrate the enamel to address the deep stains and discoloration from within the tooth. The solution that you buy in the store will typically only remove the surface stains and while this will brighten your teeth, they may still appear stained and yellow. Our in-office whitening treatment uses a much stronger solution. Ours will penetrate your enamel to start the process of oxidization where the molecules inside of your teeth begin to reflect less light, appearing colorless and bright white. The results are truly stunning and we are confident that you will be pleased with your new smile.
The Pros and Cons of In-Office vs Home Tray Teeth Whitening
Dr. René A. Talbot, DDS, encourages our Huntsville, AL patients to try an in-office whitening procedure because the results are more dramatic, it is more comfortable, faster, and there is less of a risk for tooth sensitivity afterwards. At home trays can be effective but the process can take a week or two to see results, the solution can leak if the trays are not custom made, and teeth tend to become sensitive, often due to overuse. While buying a kit at the drugstore may seem convenient, when you compare the results and time involved, it really isn't. If you live in the 35801 area, call (256) 382-6690 to schedule an appointment with our dental office and experience the benefits of a beautifully white smile.
---
---
Related Posts
April 3, 2019
If you have yellow teeth, stains on your teeth or are not happy about the appearance of your teeth, getting a teeth whitening or bleaching treatment is a great way to restore them to their …
---